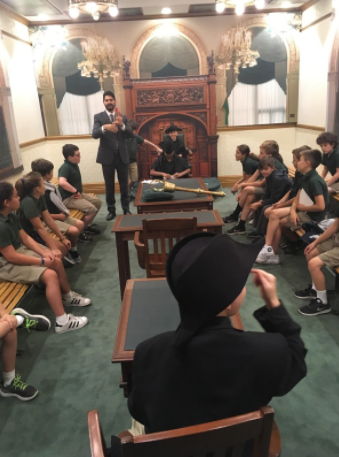 The Grade 5s spent some time this week looking at the three levels of government. We started to understand the three branches of the federal government, visited the Legislative assembly and will look at what actions we can take around our city. Conversations around political parties have been hot topics all year but with small investigations into what is happening around our city we are getting closer to better understanding the different perspectives. The unit summative will start just after Thanksgiving.
We have started to read the book Bootleg in class and the students are wondering what would happen if chocolate was banned in our city? What if the wrong party was voted into government and started to change things!? Could Toronto work as a dictatorship!? The conversations are never boring around the Grade 5 rooms.
Multiplication has begun in the Grade 5 math class. Practising the multiplication tables and discovering how they are connected to division has been our primary focus.
In French, the students continued to reinforce the vocabulary from our story about Will Ferrell through two online activities. They are encouraged to practice at home as well/ Please click here for the link to Quizlet, click here for the link to Textivate for 5A, and here for the link to Textivate for 5B.
LOOKING FORWARD:
Michael Mitchell Canada is for Kids Performance - Friday, October, 13th
We have the privilege of welcoming Michael Mitchell to the Junior School next Friday, October 13th. Michael Mitchell is an award-winning singer, songwriter and storyteller. He is on a never-ending mission to stir up some patriotic spirit in the hearts and minds of all Canadians through lively songs and humorous stories of our history, geography and some of the wacky oddities that identify us as Canadians. He is also the former co-host of the CTV children's program Story Time, and has also written and recorded songs for Sesame Street and PBS. In honour of this special guest and in celebration of Canada's 150th anniversary, students and staff will have a Red and White and/or Canadian apparel casual day on Friday, October 13th.
REMINDERS:
Attendance: If your child is going to be absent, please send an email to the homeroom teacher and attendance (1639attendance@yorkschool.com).
As well, if your child will be attending aftercare, please send an email to be sent to the homeroom teacher and Carol Klestinec (cklestinec@yorkschool.com).
It is very important for your children to be on time so that they are in class for morning announcements, the mindful moment and to limit disruptions.
Co-Curricular Programme Dates:
December 18th - 21st Last week of Fall 2017 Co-Curricular Programme
November 24th Winter 2018 Co-Curricular Programme Guide online
December 7th - 10th Winter 2018 Co-Curricular Programme online registration
January 9th - March 9th Winter 2018 Co-Curricular Programme
The Junior School will be collecting gently used costumes from Monday, October 2 to Friday, October 13th. Bins will be in the Gathering Place for items.