Message from Senior School Principal, David Hamilton
Experientia Docet = Experience Teaches
The York School motto first struck me when I walked into the school in the spring of 1995, looking for a job. Back then, the school was housed in the Eglinton United Church on Sheldrake Boulevard. The first Grade 9 class was held in the "Choir Room" and French classes were in the hall.
How far we have come! To have two of the most attractive renovated buildings on Yonge Street – the "longest street in the world" – seems unbelievable to me now. And yet through all the changes, the school motto has stood the test of time.
Of course, the concept behind the motto is practically timeless. As Aristotle wrote, "Anything that we have to learn to do we learn by the actual doing of if … We become just by doing just acts, temperate by doing temperate ones, brave by doing brave ones." (Nicomachean Ethics, Book II, p.91). Early twentieth-century philosopher, John Dewey, often considered the father of experiential education, underscored the importance of experiences, buttressed by reflection, that build upon one another and that interact with a student's personal goals. The purpose of such an education was to generate freedom of thought and to help strengthen a democratic society.
And so it is no surprise that I was asked this week to give the first clue to the Grade 9 students for their Amazing Race. We could have sat them down and shown them maps, pictures and videos about Toronto. Or we could send them out on a fun-filled day to discover Toronto on their own. Who knows a city better: the one who has studied the guide book, or the one who has walked its streets?
But even Dewey was skeptical of progressives who attempted to rely too heavily upon experience in the education of our youth. Like Aristotle, Dewey sought a balance.
And so it is at The York School. Experience teaches, but so too do books, art, movies, learned scholars, passionate teachers, curious students, and caring parents. A great education is multifaceted, addressing both the heart and the mind. And that's what it takes to achieve our mission: to develop inquiring, knowledgeable, and caring young people who are engaged citizens of the world.
Wishing you all a weekend of amazing experiences!
David Hamilton
Senior School Principal
ALL SCHOOL IMPORTANT NEWS
5 TIPS FOR NAVIGATING THE NEW FLASH:
Where are The Flash archives? Gone are the days of sifting through your email inbox or the YorkNet portal to find last week's issue of the Friday Flash. With the new design, you will find an archive of past Flash dates at the bottom of each page, so you can access all Flash info from one central location.
Where is the Calendar of Important Dates? We hope the community will support us in eradicating multiple calendars, reducing duplication and the potential for errors. If you are looking for the calendar of important upcoming school dates (from JK to Grade 12), these can be found in the All School Calendar on the top righthand side of The Flash menu bar. Please refer to this calendar as it has the most up-to-date information on everything happening at the school. If you would like to import this calendar or a division-specific calendar into your own person iCal or Gmail, please follow these instructions.
Can I bookmark The Flash? The link for the Flash will be the same every week so you can bookmark it in your web browser for quick access: https://theflash.yorkschool.com/. You can also access the link through the weekly email, or through the YorkNet portal.
How do I navigate The Flash on my phone? If you're looking at The Flash on your smartphone, the three horizontal white lines at the top left of the page are your menu bar – tap there to find all sections of the Flash.
Where do I give feedback? As always, we're happy to hear from you. Please email communications@yorkschool.com with any questions or feedback.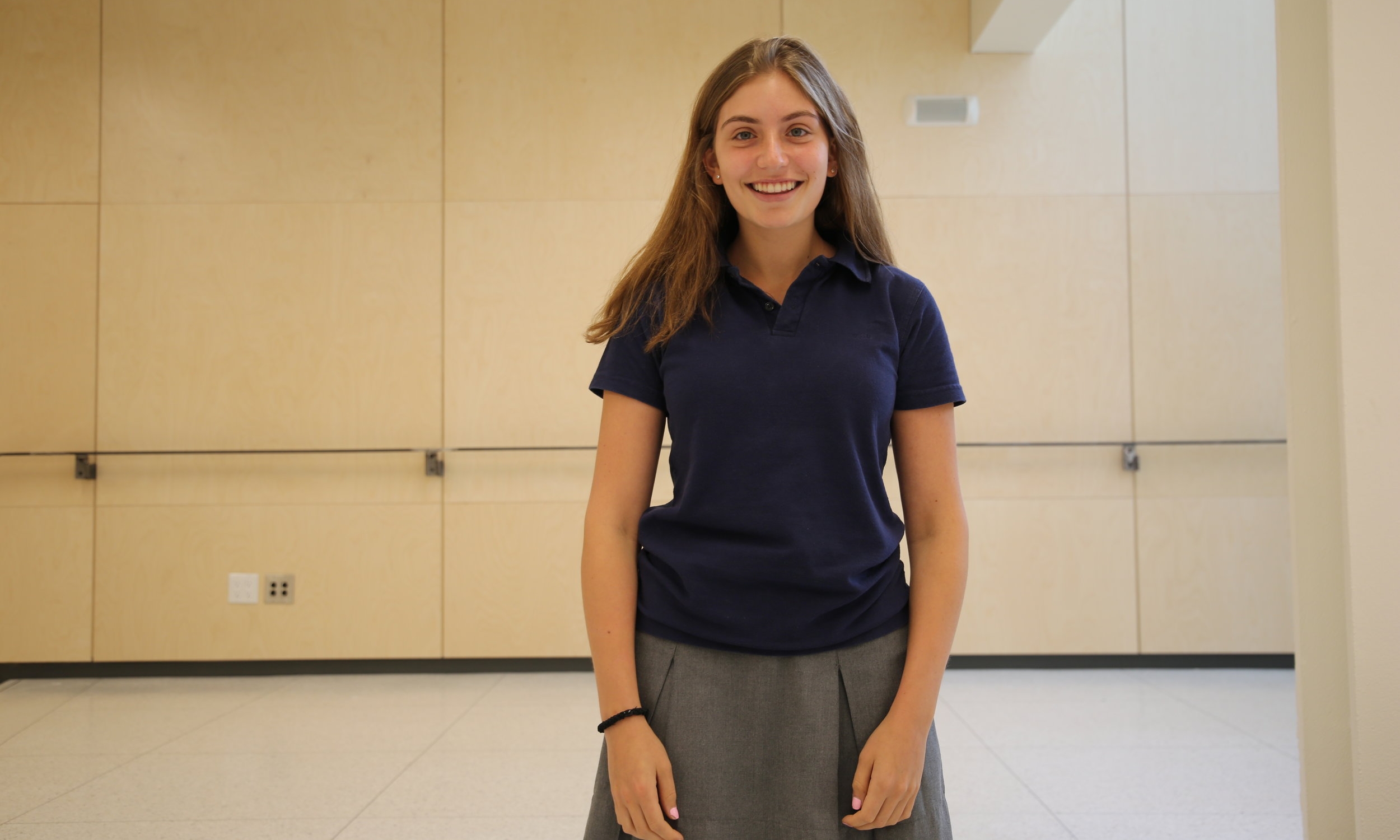 ON THE [NEW] YORK SCHOOL CAMPUS
Having first joined The York School while 1320 Yonge Street was under construction, Grade 12 student, Carolyn Levitt, didn't know what to expect of the renovated Middle & Senior School. Here's her reaction to seeing 1320 Yonge Street for the first time and the impact it has had on her and her classmates:
What was your first impression of the newly renovated space?
I was new to the school last year, so seeing it under renovation was all I really knew – I couldn't even imagine how it would look. I didn't realize how much of the school was being redone. I was not only amazed by the space and the light, but also the new chairs and desks!
Which new space is your favourite?
I have a couple. The Learning Commons is really cool and there are always people in it, which I love. Last year we had the temporary Flex Space which was our Cafeteria, Library and place to hang out. The Learning Commons feels like a redone version of that but it's much nicer and multiple grades can be there at once which means we can all hang out together instead of being dispersed throughout the school.
Also, outside of the York Cafe, there are these great long tables in the breakout space. Grade 12s can use those during spares, which allows the whole grade to sit together.
"We are more of a cohesive unit here." - Carolyn Levitt, Grade 12
GLADIATOR ATHLETIC GEAR FOR SALE!
Athletic team-specific gear is now available for parents, grandparents, and friends to purchase! Items will be charged to student accounts.
LAST CHANCE FOR FOR UNIFORM RETURNS OR EXCHANGES
Tuesday, September 26th - 8:00 a.m. to 10:00 a.m.
Thursday, October 12 & Thursday, October 26th - 8:00 a.m. - 10:00 a.m.
(Location: Junior School outside the Junior School York Shop)
*Please bring items to return/exchange and the paperwork Top Marks provided with your shipment. If you have any questions, please email Ginny Bates, York Shop Manager: gbates@yorkschool.com.
ANNUAL INDIA CAR WASH FUNDRAISER - THIS SATURDAY!
When: Saturday, September 23rd from 9:00 a.m. - 1:00 p.m.
Where: Back parking lot of the Junior School located at 1639 Yonge Street
Why: Pay what you can to support our Service Learning Trips to Global Pathways School in India!
2017-2018 CLASS PARENTS
Please watch your inboxes for a welcome email from your class parent which will be coming in the next week. For a list of Class Parents for each grade, please visit the YPA button on YorkNet.